Daizy Stavropoulou
song file Ston Ayio Konstandino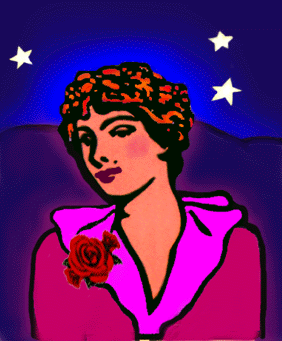 Very little information can be offered here about the life and work of Daizy Stavropoulou. A contemporary of those singers who began their careers in the 1940's, she made what appears to be only a small number of recordings. Artiste's Recording Sheets from the EMI archive in Hayes, England, indicate that between June and October 1940 she made six recordings for the Columbia label at the Athens studio, singing compositions of V. Tsitsanis, K. Skarvellis, S. Drossos, K. Kosmathopoulos, and G. Palamas [similar archival records for the HMV label are unavailable]. She must have also been one of the last artistes to record at the studio before the German Occupation, cutting two sides on 17 March, 1941, I linghi mas to thelei [DG 6584] and Na paro to doufeki mou [DG 6584].
Daizy was one of the first to return to the rebuilt studio in November 1946 to record two songs with Tsitsanis, Mazi mou then teriazis [DG6617] and Ston Ayio Konstandino [DG 6617] - click above to play.
Low-pitched and rough-toned, Daizy's voice is one of the most interesting of her era. Where she came from and what became of her remains rather a mystery - if anyone has any information at all about this 'lost' rebetissa, please let us know! She deserves her place in the history of the rebetiko tragoudi.